About  A.R.T.  Design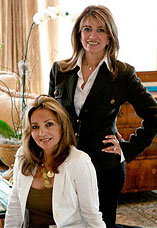 Meet Azi Jahangiri & Farah Amiri-Davani
We specialize in offering design counseling in all phases of construction, remolding and home renovations. Comprised of two principal designers and ASID Members – Azi Jahangiri and Farah Amiri-Davani – at A.R.T. Design we are committed to maximize your budget while producing exceptional commercial, residential and medical projects.
We are devoted to providing our clients with a luxurious environment while maintaining functionality and cost-efficiency. Our design duo has woven together experience, vision and creative expertise to craft aesthetically stylish and operational living and working places.
Working closely in collaboration with clients, architects and contractors enables us to successfully shape the design to suit your needs, desires and functions. We have found much success in our client-first philosophy.
As former schoolmates and business partners, we founded A.R.T. Design in the year 2000. Since then we have created projects that tailor and tune the atmosphere and decor to appeal and appease both clients and visitors alike. We have specialized in a unique style of design, which adroitly uses colors, aroma, sounds, and space to make a charming sanctuary for our various clients.